We are a Columbus band delivering deep cuts and b-sides from the funk canon, as well as original quantum leapers from the 4th dimension.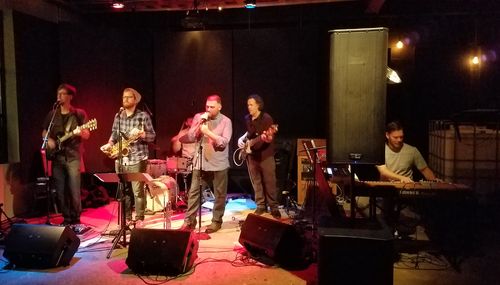 In a hazy, 1970s apartment in Columbus Ohio, the smell of nag champa in the air, Flogo Shaggins begins an inspired meditation with his bongo drums. As he began to lose himself in the rhythm and pace of his improvisations, he opened his eyes and found that he was truly lost! Where was he? When was he? Eventually, he was approached by a wise man named Randolph who offered to guide him on his quest back home… all he had to do was find the right rhythm to send him back. This is how is tale begins… 
Flogo Shaggins pays tribute to the great funk artists of the 60s and 70s, other artists who they doth funkify, and performs original funk/rock/psychedelic music. Expect to hear a lot of deep cuts and 'b' sides, some classics, and some unexpected surprises. Most recently, they've been working on and performing more original material, recounting the adventures of Flogo Shaggins as he navigates time and space in an adventure that combines Tolkien, Quantum Leap, and a touch of The Wizard of Oz. Their self-titled debut EP (2019) is available on Spotify, Bandcamp.com, CDBaby, and on CD.